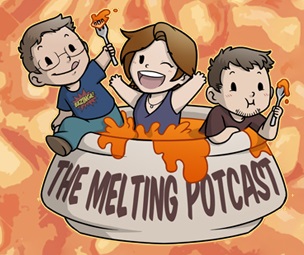 For our August midmonth episode, we're proud to present our first stories we were able to PAY FOR! That's right! The Stoke the Fire stories in this episode have been BOUGHT!
These are for Prompt #19- You have two left feet... along with your right one.
"Skip Skip Hop" by A. F. Grappin (I actually am just keeping my pay in the Potcast coffers for future updates)
"Two Left Feet" by Kalila Roche
After that, we have a trio of Short Order Cook stories, one for A. F., Erin, and Theo! Thanks to Jason Goodman for the story prompts!
Don't forget to check out our Patreon, our Swag Shop, and to leave us a review on iTunes! And please talk about us on social media!
You can submit prompt ideas, Stoke the Fire and Main Ingredient submissions, Pot Roast ideas, and Short Order Cook ideas at themeltingpotcast@gmail.com or check themeltingpotcast.com/submissions for info.
Promo- The Case of the Scarlet Starlet by James Silverstein
Bumper- Tee Morris