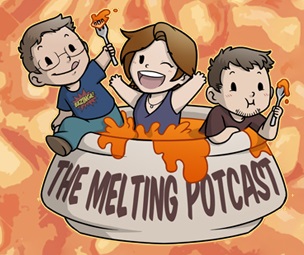 Erin suggested Dynamic Voice Acting as a panel for Balticon and as a result, got to moderate it. Featuring Veronica Giguere, Tee Morris, Starla Huchton, and A. F. Grappin as vocal artists, the panel discusses interpretation when only voice is used.
ALSO, ANNOUNCEMENT!
Thanks to our amazing patreon backers, we are now able to PAY WRITERS! Starting August 1, 2019, Stoke the Fire and Main Ingredient authors will receive a small payment when their story airs! More reason to send us stuff!
Don't forget to check out our Patreon, our Swag Shop, and to leave us a review on iTunes! And please talk about us on social media!
You can submit prompt ideas, Stoke the Fire and Main Ingredient submissions, and Short Order Cook ideas at themeltingpotcast@gmail.com or check themeltingpotcast.com/submissions for info.