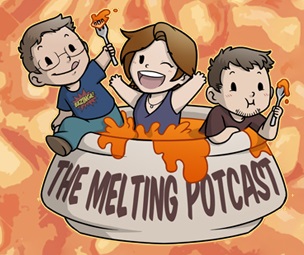 We were LIVE at Balticon 53 on Friday, May 24, 2019 at 8pm Eastern. To a crowd of pairs and pairs of people, A. F. and Erin were joined by voice actors/podcaster/creatives Tee Morris, Philippa Ballantine, and Spence Spencer to bring you a Main Ingredient story by none other than Potcast Word Chef Keith Hughes. "Double Trouble" was based on Prompt #18- You are informed via phone that your SO has been in an accident. They are standing right next to you.
Afterwards, the crowd participated in a live Mystery Meal based on Edgar Allen Poe's "The Raven."
And finally, the crowd got to play a Processed Food guessing game. A. F. read the translated version of a certain song, with the audience guessing. What's worse, after the game, Tee Morris read a SECOND translated version that was just horrible.
 A. F. and Erin also had the honor of announcing Spence as the first Patreon backer to achieve a year at a high tier backing, earning her the official Disaster Kitchen title of Saucier!
Don't forget to check out our Patreon, our Swag Shop, and to leave us a review on iTunes! And please talk about us on social media!
You can submit prompt ideas, Stoke the Fire and Main Ingredient submissions, Pot Roast ideas, and Short Order Cook ideas at themeltingpotcast@gmail.com or check themeltingpotcast.com/submissions for info.