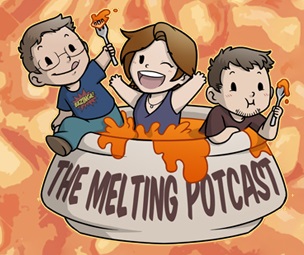 We're in hectic preparing-for-Balticon mode, but that doesn't mean we can't still serve up a hearty word meal!
Erin and A.F. start off with a pair of Stoke the Fire stories based on prompt #18- You are informed via phone that your SO has been in an accident. They are standing right next to you.
"An Evening Conversation" by Jason Goodman (this also touches on like 5 other prompts, knowing Jason)
"Redux One - Six" by David "Doc Blue" Wendt
We follow up with a nice Mystery Meal, featuring a cameo from the littlest Junior Chef. This is from The Call of the Wild by Jack London.
Don't forget to check out our Patreon, our Swag Shop, and to leave us a review on iTunes! And please talk about us on social media!
You can submit prompt ideas, Stoke the Fire and Main Ingredient submissions, Pot Roast ideas, and Short Order Cook ideas at themeltingpotcast@gmail.com or check themeltingpotcast.com/submissions for info.
Promo- The Perils of Prague by Doc Coleman
Bumper- Author Charlie Brown