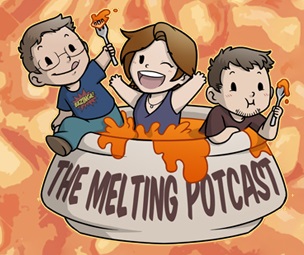 Okay, we're back on track.
And yet A.F. still isn't back in the kitchen. So Grillmistress Erin is serving up another helping of Botched Recipes. She follows it up with A Little Seasoning with authors/streamers/podcaster Pip Ballantine and Tee Morris!
Prompt #18 is now closed. And now opening is:
Prompt #20- The forecast called for heavy snowstorms, but what's falling from the sky is NOT snow.
Don't forget to check out our Patreon, our Swag Shop, and to leave us a review on iTunes! 
You can submit prompt ideas, Stoke the Fire and Main Ingredient submissions, Pot Roast ideas, and Short Order Cook ideas at themeltingpotcast@gmail.com or check themeltingpotcast.com/submissions for info.
Promo- Nostalgia Pilots
Bumper- Philippa Ballantine