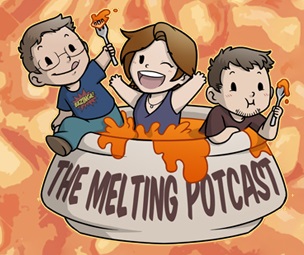 A. F. is out of the kitchen so Erin is serving up some Botched Recipes! Authors Chris Lester and Charlie Brown get some mentions in this set of bloopers!
After that, A. F. (who still isn't in the kitchen) interviews author Hugh J. O'Donnell in A Little Seasoning. Apologies for some audio issues on A. F.'s end. 
And finally, we Mystery Meal up some more Shakespeare! This time, it's poor King Lear getting the treatment.
The Melting Potcast is OPEN to submissions and needs YOUR help! Main Ingredient stories (up to 5000 words) and Stoke the Fire stories (up to 1500 words and based on one of our prompts) are needed, badly!
Don't forget to check out our Patreon, our Swag Shop, and to leave us a review on iTunes! 
You can submit prompt ideas, Stoke the Fire and Main Ingredient submissions, Pot Roast ideas, and Short Order Cook ideas at themeltingpotcast@gmail.com or check themeltingpotcast.com/submissions for info.
Promo- Best Served Cold by John G. Walker
Bumper- Scott Roche