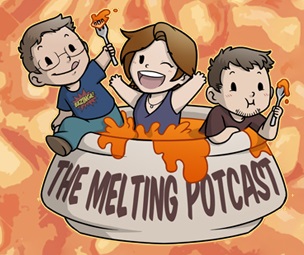 We love you!
Okay, now that the sappy Valentine's Day stuff is past... we're bringing you MORE!
We start with a Main Ingredient story by David "Doc Blue" Wendt
The Ostinato Cafe is full, and there are couples at every stage in their life sharing this special night. But something more makes it even more meaningful than any of them realize.
We follow that with some Processed Foods, where your crew has destroyed famous love poems by putting them through multiple layers of Google Translate!
The Melting Potcast is OPEN to submissions and needs YOUR help! Main Ingredient stories (up to 5000 words) and Stoke the Fire stories (up to 1500 words and based on one of our prompts) are needed, badly!
Don't forget to check out our Patreon, our Swag Shop, and to leave us a review on iTunes! 
You can submit prompt ideas, Stoke the Fire and Main Ingredient submissions, Pot Roast ideas, and Short Order Cook ideas at themeltingpotcast@gmail.com or check themeltingpotcast.com/submissions for info.
Promo- Yikes! Murder and Stuff 
Bumper- Nutty Nuchtchas
Music
Evening Touching Moments One - Pulse Kevin MacLeod (incompetech.com)
Licensed under Creative Commons: By Attribution 3.0
http://creativecommons.org/licenses/by/3.0/