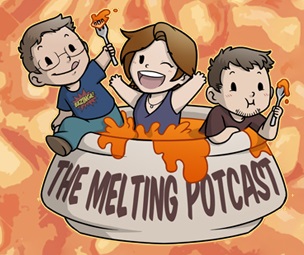 It's well past due, but the Balticon Bonus episodes are joining the regular numbered episodes. Also, as Erin and A. F. will being going to OTHER conventions this year, it doesn't make sense to call these Balticon episodes anymore. From now on, any convention panel episode will now be referred to as The Chef's Table. 
That said, this episode's IS a panel from Balticon 2018. Editors and agents discuss "Pitches We're Sick of, and A Few We'd Like to See."
Don't forget to check out our Patreon, our Swag Shop, and to leave us a review on iTunes! 
You can submit prompt ideas, Stoke the Fire and Main Ingredient submissions, Pot Roast ideas, and Short Order Cook ideas at themeltingpotcast@gmail.com or check themeltingpotcast.com/submissions for info.