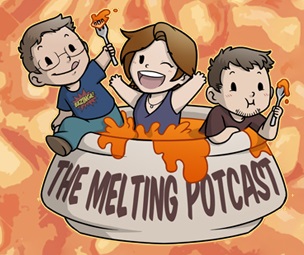 Happy 2019! We're starting off the year by cleaning the table a bit with some Table Scraps! These are Stoke the Fire stories that never got a partner in the same prompt. Plus, in this case, they're also both stories by our Head Chef!
"Red Tape" and "Seeking Kernels"
We follow that with a Processed Food segment with Dishboy Theo playing a poorly-translated Hannibal Lecter as he sizes up Agent Starling in Silence of the Lambs.
Prompt #17 is now Closed!
Introducing Prompt #19: You have two left feet...along with your right one.
Don't forget to check out our Patreon, our Swag Shop, and to leave us a review on iTunes! 
You can submit prompt ideas, Stoke the Fire and Main Ingredient submissions, Pot Roast ideas, and Short Order Cook ideas at themeltingpotcast@gmail.com or check themeltingpotcast.com/submissions for info.
Promo- Six Stories, Told at Night by K.T. Bryski
Bumper- Mike Luoma