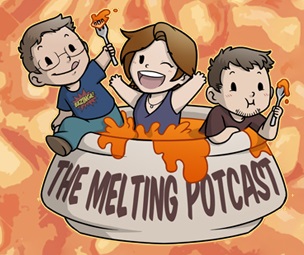 2018 is nearly over, and this is the final episode for this year. At least, in our normal feel. Our Patreon backers will still have one more special episode just for them, so consider becoming a backer! Link to our Patreon is lower in the notes here.
A. F. is cooking solo, bringing you a Christmas magic story by Keith Hughes.
"There Arose Such a Clatter"
Something strange is going on on Ray's roof. If he weren't up late on Christmas Eve trying to assemble a bike for his little girl, he might have missed the magic.
After that, we sink into a Mystery Meal from Jane Eyre by Charlotte Bronte.
PROMPT #17 CLOSES AT THE END OF THE YEAR! You have 2 weeks left to write and submit a dinosaur story!!!
Also, we are in dire need of YOUR participation! As always, we need Stoke the Fire and Main Ingredient submissions, but we can also use suggestions for Short Order Cook segments, authors to interview for A Little Seasoning, and pretty much any other suggestions you can toss our way. Check our About Page to see what kinds of things we offer and get ideas to help! And also our Submissions Page!
Don't forget to check out our Patreon, our Swag Shop, and to leave us a review on iTunes! 
You can submit prompt ideas, Stoke the Fire and Main Ingredient submissions, Pot Roast ideas, and Short Order Cook ideas at themeltingpotcast@gmail.com or check themeltingpotcast.com/submissions for info.
Promo- The Black by Paul E. Cooley
Bumper- Michael R. Underwood
Music
Christmas Rap Kevin MacLeod (incompetech.com)
Licensed under Creative Commons: By Attribution 3.0
http://creativecommons.org/licenses/by/3.0/