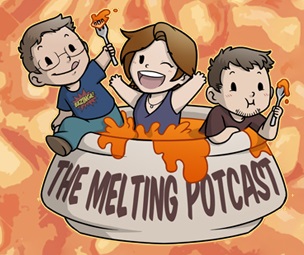 We start this meal with a Main Ingredient story based on like... 4 prompts. 
A Most Peculiar Bizarre Day Ever by Jason Goodman
Some weird rain has brought a bunch of crazy people into the hospital, and Jay is just plain out having a rough day.
We chase that with a Processed Foods segment including a mangled version of Valerie's letter from the movie V for Vendetta. You want to listen to this one, folks. Erin had a tough time keeping it together.
Reminder that Prompt #17 closes at the end of the year!
Also, we are in dire need of YOUR participation! As always, we need Stoke the Fire and Main Ingredient submissions, but we can also use suggestions for Short Order Cook segments, authors to interview for A Little Seasoning, and pretty much any other suggestions you can toss our way. Check our About Page to see what kinds of things we offer and get ideas to help! And also our Submissions Page!
Don't forget to check out our Patreon, our Swag Shop, and to leave us a review on iTunes! 
You can submit prompt ideas, Stoke the Fire and Main Ingredient submissions, Pot Roast ideas, and Short Order Cook ideas at themeltingpotcast@gmail.com or check themeltingpotcast.com/submissions for info.
Promo- Mental Graffiti by Scott E Pond
Bumper- Chris Lester
Music
March of the Spoons Kevin MacLeod (incompetech.com)
Licensed under Creative Commons: By Attribution 3.0
http://creativecommons.org/licenses/by/3.0/