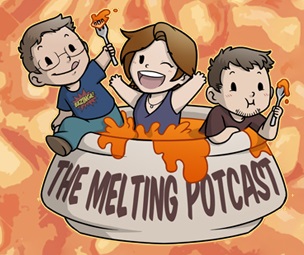 We finally made it to an episode that shall not be numbered.
Yeah... it's numbered. But never mind which number.
More importantly, it's time for some Stoke the Fire stories! These are from Prompt #17: You have a dinosaur bodyguard. And as an added bonus, they're by the same author, David "Doc Blue" Wendt!
"Sugar and Spikes- a Flint Redstone Story"
"A Brief Excerpt from [REDACTED]"
We trail that with another Mystery Meal made with your help! This one destroys The Count of Monte Cristo by Alexandre Dumas.
Also, special thanks to Patreon patron Spence Spencer!
Don't forget to check out our Patreon, our Swag Shop, and to leave us a review on iTunes! 
You can submit prompt ideas, Stoke the Fire and Main Ingredient submissions, Pot Roast ideas, and Short Order Cook ideas at themeltingpotcast@gmail.com or check themeltingpotcast.com/submissions for info.
Promo- Criminal from Birth by A. F. Grappin
Bumper- Mike Luoma