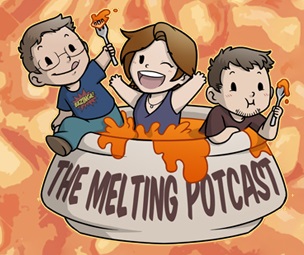 It's midmonth October (already?!) and we're here with another Main Ingredient story! "However Improbable" by James Silverstein.
A lost file containing words written by Dr. John Watson has been found. Is this really what happened to Sherlock Holmes?
We follow it with a Food Critic segment in which A. F. reviews Make Bright the Arrows by S. A. Huchton.
Finally, we destroy English (and a couple other languages in the background) with a Processed Foods segment. This monologue from the movie Dogma went through 6 languages before being returned to flawed English!
Don't forget to check out our Patreon, our Swag Shop, and to leave us a review on iTunes! 
You can submit prompt ideas, Stoke the Fire and Main Ingredient submissions, Pot Roast ideas, and Short Order Cook ideas at themeltingpotcast@gmail.com or check themeltingpotcast.com/submissions for info.
Promo- ARCHIVOS
Bumper- Scott Roche, author of The Casebook Esho St. Claire