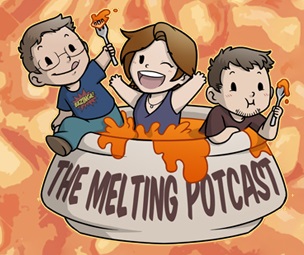 We love so much giving new or newish writers an outlet for their words, and this is what we've got today! We bring you Brownsville Creek: A Suburban Legend by Shay Brodbeck.
There's something in Brownsville Creek. Even it doesn't seem to know what it is, but it's figuring it out to the detrement of humans.
We follow up with a Mystery Meal from J.R.R. Tolkien's The Hobbit. We should be sorry, but we're not.
Prompt #16 is now closed. We bring you now Prompt #18
You are informed via phone that your SO has been in an accident. They are standing right next to you.
Thanks to Nick Deding for the prompt!
Don't forget to check out our Patreon, our Swag Shop, and to leave us a review on iTunes! 
You can submit prompt ideas, Stoke the Fire and Main Ingredient submissions, Pot Roast ideas, and Short Order Cook ideas at themeltingpotcast@gmail.com or check themeltingpotcast.com/submissions for info.
Promo- Weekly Podioplex
Bumper- John Walker, author of The Statford Chronicles