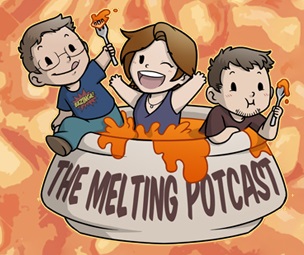 Where has August gone? We're up to midmonth already? Well, fine. Here, have a Main Ingredient story! It's based on Stoke the Fire prompt #14- A rash of people have just entered the emergency room--all of them exhibiting superpowers.
ER Invasion by Scott Roche
Something strange and urgent is going on in the ER. Somehow, it's the woman who fixes the copier who takes charge and sets out to protect the innocent.
We come after that with another of our new Processed Foods segment. Theo reads "The Rules" from the movie Fight Club. We translated it through like 8 languages before spitting it back out in English!
We cap off the episode with a Mystery Meal. Erin reads part of one of Lucy's letters to Mina from Dracula by Bram Stoker.
Don't forget to check out our Patreon, our Swag Shop, and to leave us a review on iTunes! 
You can submit prompt ideas, Stoke the Fire and Main Ingredient submissions, Pot Roast ideas, and Short Order Cook ideas at themeltingpotcast@gmail.com or check themeltingpotcast.com/submissions for info.
Promo- The Black: Arrival by Paul E. Cooley
Bumper- Django Wexler