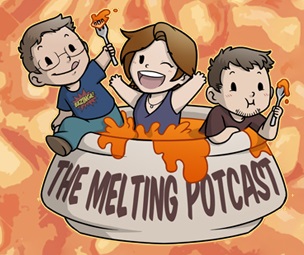 The Melting Potcast is four years old. FOUR! We can't believe it! We're bringing you a full menu to celebrate, starting with a pair of Stoke the Fire stories. They're both based on Prompt #14 A rash of people have just entered the emergency room-- all of them exhibiting superpowers. But one of them also touches on Prompt #15- There is an expiration date for your birth certificate. It's only a few days away.
"Expiry" by Christopher Michael
"The Waiting Doom" by Hugh J. O'Donnell
After that, we have another beautiful piece of literature twisted into a Mystery Meal. We give you the cloning process scene from Brave New World by Aldous Huxley.
And finally, we introduce an all-new segment. Happy birthday! This one... is almost as bad as Mystery Meals. In the new Processed Food segment, we take well known monologues from movies and theatre and put them through several layers of Google translate. This time, it was Morpheus's red pill/blue pill speech from The Matrix.
Don't forget to check out our Patreon, our Swag Shop, and to leave us a review on iTunes! 
You can submit prompt ideas, Stoke the Fire and Main Ingredient submissions, Pot Roast ideas, and Short Order Cook ideas at themeltingpotcast@gmail.com or check themeltingpotcast.com/submissions for info.
Promo- ARCHIVOS
Bumper- Philippa Ballantine