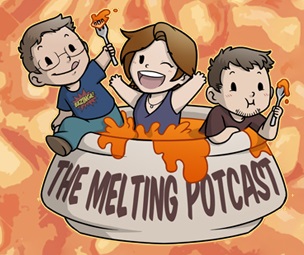 It's July 1, and the kitchen is gearing up for a hot summer. We start with a Main Ingredient story by Potcast friend James Silverstein!
The Journal of the Ivory Throne
Lonnie has gone missing, and friends from his seafaring village are determined to find him. But the trail leads to the Ivory Throne, an island told of in their worst stories.
After that, we treat you to some rather frightening audio from A.F. and Erin's trip to Balticon, including some delirious, late-night word games.
Prompt #15 is now closed. We introduce Prompt #17! You have a dinosaur bodyguard.
Don't forget to check out our Patreon, our Swag Shop, and to leave us a review on iTunes! 
You can submit prompt ideas, Stoke the Fire and Main Ingredient submissions, Pot Roast ideas, and Short Order Cook ideas at themeltingpotcast@gmail.com or check themeltingpotcast.com/submissions for info.
Promo- Weekly Podioplex
Bumper- Scott Roche, author of the Esho St. Claire novels