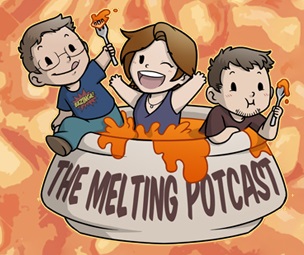 We're back in action, AND back from Balticon! Time to get the ovens back on and cooking.
So we bring a triad of Stoke the Fire stories, based on Prompt #14- A rash of people have just entered the emergency room--all of them exhibiting super powers.
"The Day the World Broke" by Linton Bowers
"Emergent Services" by David "Doc Blue" Wendt
"Untitled" by Zack Mann
Follow it with a Mystery Meal, featuring the opening scene from Moby Dick or The Whale by Herman Melville.
Don't forget to check out our Patreon, our Swag Shop, and to leave us a review on iTunes! 
You can submit prompt ideas, Stoke the Fire and Main Ingredient submissions, Pot Roast ideas, and Short Order Cook ideas at themeltingpotcast@gmail.com or check themeltingpotcast.com/submissions for info.
Promo- Criminal from Birth by A. F. Grappin
Bumper- Tee Morris