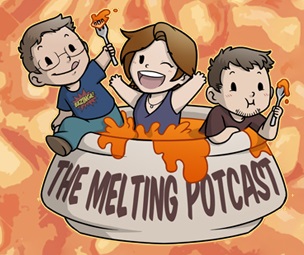 It's February, and love is in the air. So we at the Disaster Kitchen are bring you a Main Ingredient story about love…sort of.
"A Bad Case" by Charlie Brown
When Steven wakes up with a condition that was passed to him, he's determined to find a way to get rid of it. Unfortunately, the condition, "Gnomes," isn't so easy to get rid of. And it's interfering with his everyday life.
After that, we treat you to A Little Seasoning with Word Chef Chris Lester. Largely, we discuss his newly released book, The Lost and the Least, and what's coming down the line in Metamor City.
Our final course is a Mystery Meal from William Golding's Lord of the Flies.
Don't forget to check out our Patreon, our Swag Shop, and to leave us a review on iTunes! 
You can submit prompt ideas, Stoke the Fire and Main Ingredient submissions, Pot Roast ideas, and Short Order Cook ideas at themeltingpotcast@gmail.com or check themeltingpotcast.com/submissions for info.
Promo- The Black by Paul Elard Cooley
Bumper- Chris Lester
Music- "Teddy Bear Waltz" Kevin MacLeod (incompetech.com)
Licensed under Creative Commons: By Attribution 3.0 License
http://creativecommons.org/licenses/by/3.0/