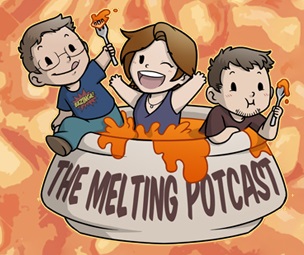 Someone has taken over the Disaster Kitchen. The Junior Chefs! What do they do but try to embarrass the crew? The JCs bring you some Botched Recipes and cook up some sort of food dish just in time for Grillmistress Erin and Dish Boy Theo to reclaim control.
While sampling this odd concoction, Erin and Theo bring a Food Critic segment where A. F. and Erin discuss My Bittersweet Summer  by S. A. Huchton. 
Finally, they wrap this ridiculous mess up with a Mystery Meal, destroying the "To be or not to be" soliloquy from William Shakespeare's   Hamlet.
Don't forget to check us out on iTunes (and leave a 70-star review), Patreon, and our swag shop!
And... there miiiiiiiight be something fun at the very very very end of the episode. 
Promo- Necropolis by James Silverstein