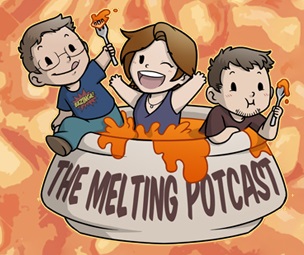 The Disaster Kitchen has reopened, and we're preheating with the last panel we had from Balticon 51 last year.
Why the Storyteller Needs a Narrator- a discussion about giving your narrative a voice.
As in vocal performer. This is about putting your work in audio. Also, Erin and A. F. were both ON the panel, along with some other staggeringly amazing voice artists and writers with amazing perspectives!
Don't forget to check out our Patreon, our Swag Shop, and to leave us a review on iTunes! 
You can submit prompt ideas, Stoke the Fire and Main Ingredient submissions, Pot Roast ideas, and Short Order Cook ideas at themeltingpotcast@gmail.com or check themeltingpotcast.com/submissions for info.